Spielplanparcours für Lehrkräfte und Multiplikator*innen
Ganz kompakt stellen wir an diesem Nachmittag gemeinsam mit dem stellwerk – junges Theater Weimar unsere Spielpläne speziell für Pädagog*innen, Multiplikator*innen sowie Schul- und Klassensprecher*innen im Rahmen eines Parcours vor und informieren über anstehende theaterpädagogische Angebote.
Im Anschluss laden wir Sie zu einem Probenbesuch einer aktuellen Produktion ein.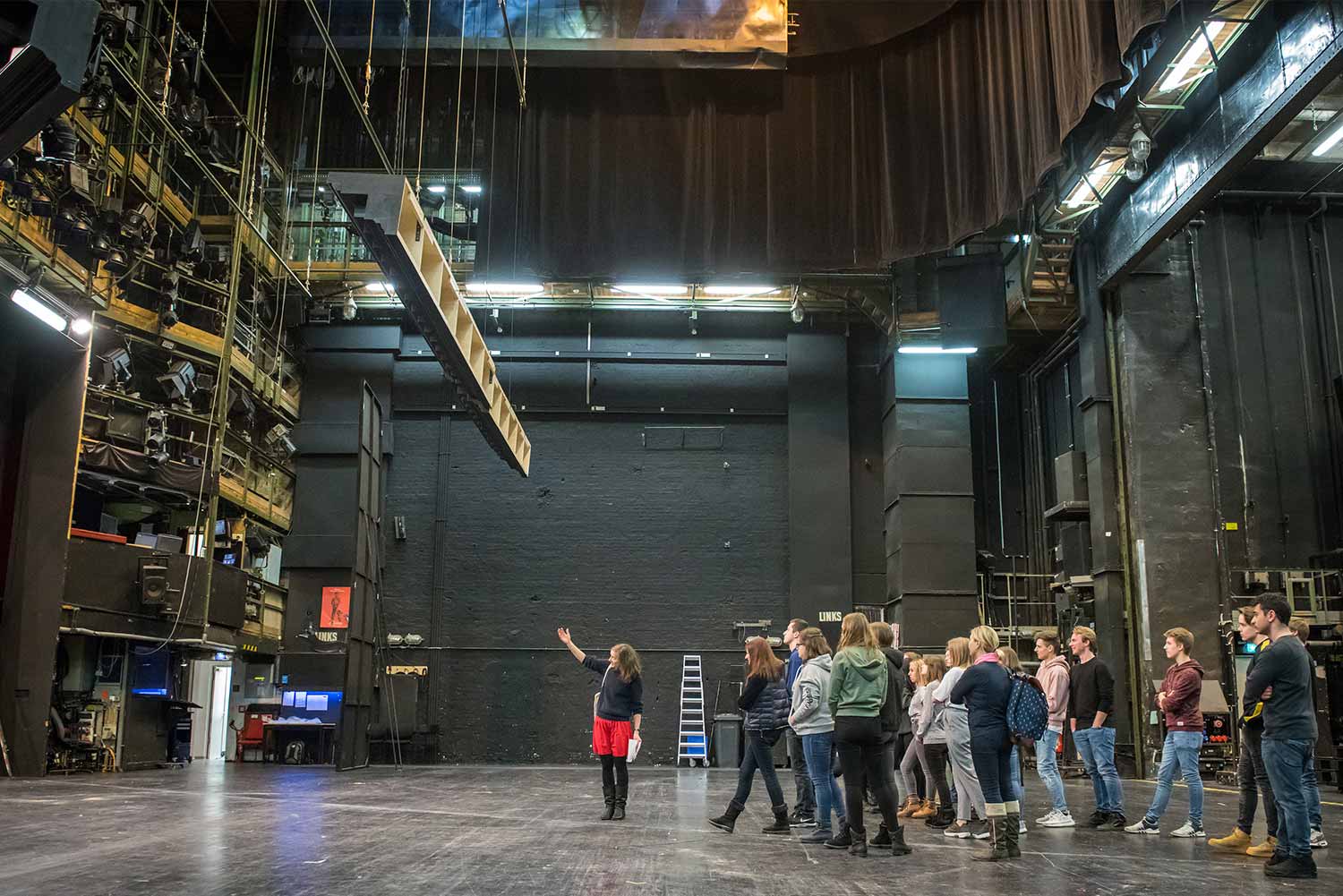 Theatre Tour
Behind and around the big stage there is a lot to discover: lots of busy hands, big workshops, spotlights, brushes, sewing machines and much more. During a guided theatre tour we give an insight into the daily routine of our theatre and take a look behind the scenes of the DNT.
Of course we visit the stage, but also the tailoring, the mask or the painting hall. In addition, there are interesting insights into the history of the DNT.
Max. 25 persons, duration approx. 1 hour, price 6€/4€ reduced
Theatre tours can only be booked in conjunction with a performance visit.
Contact: service@nationaltheater-weimar.de
Behind the scences
Mask workshop
The DNT make-up artists transform singers and actors for the stage every day. Now school classes can also gain an insight into their exciting work. The mask's employees explain how wigs are made or wounds and crooked noses are made up.
For pupils aged 6 and over, duration: 1 hour, 6/4€, information and booking at: service@nationaltheater-weimar.de
Theatre tour
Behind and around the big stage there is a lot to discover: lots of busy hands, big workshops, small offices, spotlights, brushes, sewing machines, microphones and much more. During a guided theatre tour we give an insight into the daily routine of our theatre and take a look behind the scenes of the DNT. Of course we visit the stage, but also the tailoring, the mask or the painting hall. In addition, there are interesting insights into the history of theatre.
Up to a maximum of 25 people, duration: 1 hour, 6/4€, theatre tours can only be booked in conjunction with a performance visit. Information and booking at: service@nationaltheater-weimar.de
Students Newsletter
Behind and around the big stage there is a lot to discover: lots of busy hands, big workshops, small offices, spotlights, brushes, sewing machines, microphones and much more. During a guided theatre tour we give an insight into the daily routine of our theatre and take a look behind the scenes of the DNT. Of course we visit the stage, but also the tailoring, the mask or the painting hall. In addition, there are interesting insights into the history of theatre.
Up to a maximum of 25 people, duration: 1 hour, 6/4€, theatre tours can only be booked in conjunction with a performance visit. Information and booking at: service@nationaltheater-weimar.de